Carnival in Ecuador
When many think of Carnival in Ecuador, scenes of Brazil's super-famous Carnival parade probably come to mind. Colorful costumes. Huge parade floats. Music and dancing. Food and drink. But Carnival here isn't quite the same.
Origins of Carnival
Both Brazil and Ecuador, along with many countries around the world with dominant Catholic populations observe a form of Carnival. Even the southern U.S. has their Mardi Gras festival which is the same party just with a different name.

All of these festivals seem to have originated in Catholic Italy centuries ago (although they may have been adapted from pagan rituals from pre-Christian times). The fasting period of Lent which begins on Ash Wednesday was preceded by several days of living it up. Kind of a letting it all out before behaving yourself for the 40 days leading up to Easter.
Plus as rich food and drink was not permitted during Lent, they had to hurry and enjoy it.
The custom has evolved over time with different countries giving Carnival their own flair.

Carnival in Ecuador
Sadly Carnival in Ecuador has been known to be quite savage. Living it up has come to mean dousing your neighbors, family, friends and any other passerby with every liquid imaginable. From water to car oil to the unthinkable. The water is sometimes topped off with flour to make you a really sticky mess.
Have you had experience with Carnival in Ecuador? Share your story with us.
Carioca (seen below) is a colored foam similar to shaving cream that has become very popular. It's also less messy. :)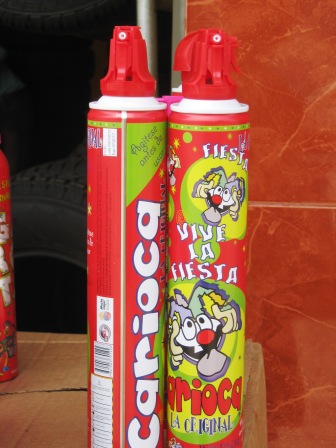 A law prohibiting Carnival savagery has been passed in Ecuador. During the weeks leading up to the days of partying, repeated television announcements are run urging the people to play nice.
In some places, the law is enforced with jail time for those who disrespect the rights of passersby. Other places like Ambato have turned the time into a tamer festival with parades and parties sans the water fights.
Carnival used to be a two week affair in Ecuador, but with this new law you are usually safe up until the weekend before Ash Wednesday (which usually falls in February). Tuesday, the final day of Carnival is the day where nothing is held back. And the streets are almost dead, with only players seen in all out war, armed with their buckets and water guns.
That said, we are at home under lock-down for the days leading up to Carnival. Not being Ecuadorian makes us a special target during Carnival. So I would rather just lay low for a few days until the storm passes over.
Huge concerts and other outdoor parties are also popular. Misahualli Ecuador has become popular for their riverside party where the dancers are covered with little more than tiny bathing suits and carioca (colored spray foam).
No Mercy
Think you can make it through the streets of Ecuador without getting hit? I've tried more than once.

Once, I was surrounded just a block from home by a gang of 8- to 10-year-olds all packing water bombs. I begged them not to get me; I even tried to gain some sympathy by listing what I had in my bag, which would be ruined if wet. It didn't work. They pelted me and I walked into my house sopping wet.

My dad tells about our first days in Ecuador, which just happened to fall during Carnival. He left out the walk he took with my mom where they were hit from above with a bucket of water and then, as they stood there stunned, with flour. Ever since then we are always watching to see who's waiting to get us from above.

The Evolution of Carnival in Ecuador
Each year that passes I've noticed more and more big parades for Carnival. Many imitate the big Brazilian Carnival Parades. But the Ecuadorian traditions of water throwing and partying continue to be the main focus of Carnival.
---
You may also enjoy these pages...
---
Home

›
Facts
› Carnaval
---