Ecuador New Years Eve
In Ecuador New Years is one of the biggest celebrations of the year. I've told lots of people about the antics of the day, but I guess it's too crazy to believe for many. So this year...I took pictures.
The "Viejos"
One big part of the festivities for New Years Eve in Ecuador are "los años viejos" (the old years). People make large scarecrow-like dolls often of the people they dislike or of notable people from the past year. And then at mid-night everyone lights them on fire. The symbolic meaning of course is the forgetting of the bad of the past year and the hope that the coming year will be better.
To make their effigies, people fill old clothes with sawdust or newspaper and add a face with a mask. A variety of masks are for sale in days leading up to New Years. 
Some people will add a sign identifying their viejo, but many will leave it to you to figure out who will go up in flames at midnight.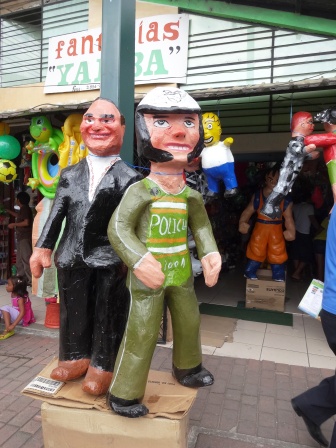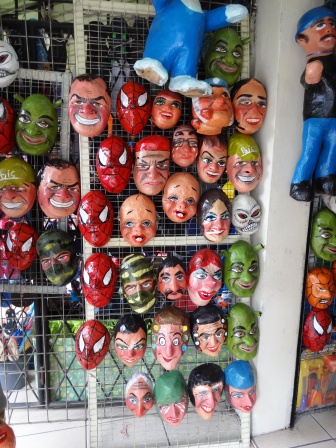 Some are made to look like famous people, usually presidents or other political figures. Others are of locals. Some are just fun...we saw Phineas and Ferb in the back of someone's truck and Homer Simpson waving from the sidewalk.
For 2014, anything from Chavo del 8 seemed to be in fashion. Must be because the principal actor, Chespirito died earlier this year.
In 2017, Donald Trump and a disgraced Ecuadorian judge are popular.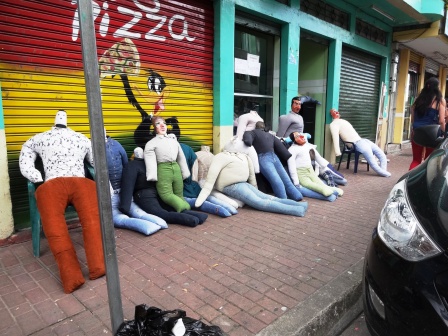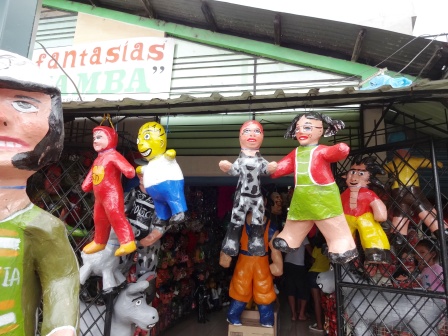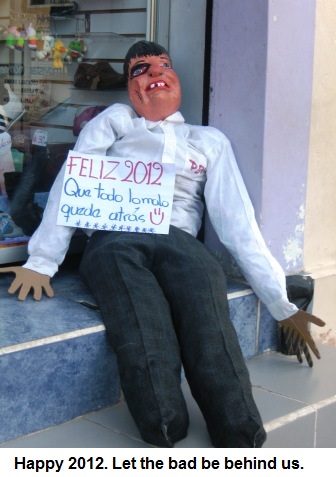 Guayaquil is famous for their "monigotes", super-sized Años Viejos. There is an annual competition for the best monigote and tours are organized so people can see the creative efforts around the city.

The "Viudas"
Another interesting feature of Ecuador New Years celebrations are the "viudas" (the widows). They are widows because their husbands are the ones being burned that evening, but the basic truth is that a bunch of really brave -or really stupid- men dress as women to beg for beer money. Kids will dress up too and beg for candy.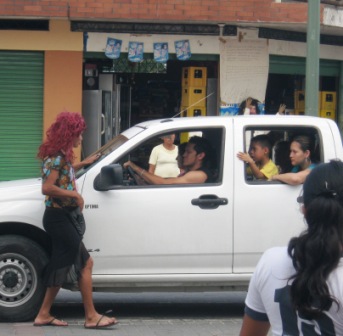 The "Viudas" are very insistent and will block the streets and dance in front of cars until someone pays their toll. They tend to start first thing in the morning of New Year's Eve and continue throughout the day.
If you are driving, you may want to use a different transportation method this day. Otherwise, bring lots of loose change to be able to pass the many roadblocks. 
The Beer
No New Year's celebration is complete without beer. And Ecuador is no exception. The crates of Pilsener were lining the streets this afternoon and will be empty by morning.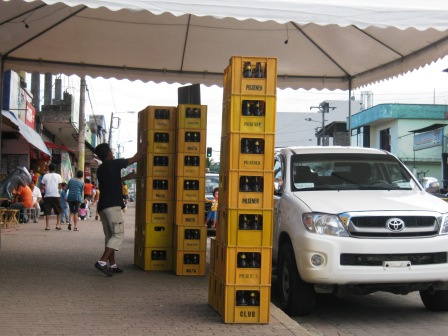 The Parties
Ecuadorians are big party people any day, but New Years Eve is an especially big party. Most every neighborhood in town will have their own music and street dance. Every bar, karaoke and disco-tech will be open until early morning. So if you're planning to sleep... I am, but I already know not to get my hopes up too high.
Many will wear masks, and fireworks are a big part of most celebrations.
Last year, there were repeated commercials on TV warning of the dangers of fireworks. It's easy to buy fireworks and gunpowder. The commercials had testimonials -mostly from young men- who had lost limbs from accidents with fireworks.
Other Traditions
Each family has their own New Year's traditions. Here are some of the most common:
Fireworks: If you were trying to sleep through the New Year celebrations, you may have some success until mid-night. The boom of fireworks is hard to ignore. Some say the fireworks ward off the bad spirits.
Twelve Grapes at Midnight: Eating 12 grapes at midnight is said to bring good luck for the coming year. This year the grocery store was selling the twelve grapes in party cups for 99 cents.

Colored Panties: Yes, you read that right. There is a superstition that if you wear yellow underwear on New Year's Eve you will have increased prosperity in the coming year. Red underwear mean you will find love.
Suitcase Around the Block: If you plan to travel in the coming year, you are supposed to run around the block with a suitcase at midnight to enjoy success during your travels.
Have you heard of other New Year's traditions in Ecuador? Share them in the comments below!
New Year's Day
The day after the big party, many continue to party. Last year we noticed breaks in the partying. Around 4 A.M. everyone seemed to be napping, just to start back in at 6 A.M.
Everything in town pretty much shuts down. So it's a good idea to be stocked up on necessities the day before.
The streets of New Year's Eve and New Year's Day are stark opposites. On New Year's Eve everyone is out and about. New Year's Day is like living in a ghost town other than a lone drunk or two.
Piles of ash from the burnt dummies dot the streets.
Have a great photo from New Year's or any other celebration in Ecuador? Send it in for a chance to win our monthly contest.
---
You may also enjoy these pages...
---
Home

›
Facts
› New Years
---