Online Advertising on 
Life-in-Ecuador.com
I accept as Site Sponsors businesses that are of interest to my readers. The majority of my readers are looking to vacation in or move to Ecuador, so all Site Sponsors are related to those categories.
Please Note: I do not accept just any business to be a Site Sponsor. All Sponsors are reviewed by me and, whenever possible, personally visited and/or used by me. Any potential Sponsor that does not meet my VIP standards will not be accepted.
You can also advertise real estate for sale or rent, or arrange for a press trip for a personal review of your services.
Why advertise online?
Offline options cost lots of money and reach only the people that subscribe to or run across the publication. In many cases you only reach your target audience when they reach Ecuador or have the hard task of choosing which market is your best option, while losing out on thousands of other potential customers.
More and more people use the Internet as their main or only guide when planning a trip or buying property. People are spending hours and hours researching Ecuador either to plan their vacation or to move here!
Take advantage of this crucial planning stage to reach potential customers. Make sure your business is seen!
Why Advertise on Life-in-Ecuador.com?
Every month we are seeing an increase of visitors to our site. As of January 2017, we have been averaging 20,000 page views monthly and that number continues to grow. Take advantage of all those eyes scanning these pages and have your ad noticed.
2012-2016 stats for Life-in-Ecuador.com: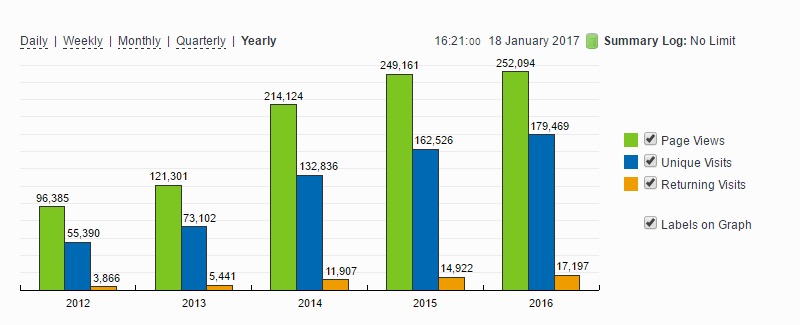 In addition to the ever increasing traffic on Life-in-Ecuador.com, the yearly cost of an ad on this website will inevitably be recovered with just ONE CUSTOMER. In some cases, many times over.
---
We are accepting sponsorship requests from any tourist or expat related business in Ecuador including:
Hotels, hostales, hosterias
Restaurants
Tour agencies
Transportation services
Expat Services
Ads appear in the right hand column of our site...over 250 pages.     
Ad includes a photo or image of you choice as well as a short message. The ad will be linked to your website. 
For added value! A personal recommendation written by me can be added to your sponsorship at no additional cost. For more info, see "Press Trips" below.
Pricing: Based current traffic on Life-in-Ecuador.com
Please note that all Site Sponsors rotate randomly and automatically. This is to cure "ad blindness" and also to allow all of our sponsors to appear in the top spot  as visitors move through the website.
For more info, please fill out form below.
---
Press Trips
We do accept offers to do press trips, so that we can tell about our personal experience with your company/business/product. Payment is not accepted for reviews written by me about the experience and I will write a truthful review of the trip or product, whether good or bad.
If you are accepted as a Site Sponsor, your ad will be linked to the review as an additional incentive for visitors to contract your services.
You do not need to be a Site Sponsor for Life-in-Ecuador to review your product or business.
For more information fill out the contact form at the end of this page.
---
Real Estate Ads
If you are selling a home, business or property you have a couple of options for an ad on our site.
Please note: I do not link to ads on other real estate sites nor do I charge any commission when your property sells. 
Option #1) Your own web page on Life-in-Ecuador.com
Your web page includes:
An in depth description of your property, including price
As many photos as you like 
Spam-protected contact form, so interested ones can speak with you directly
Also includes:
A one time post on my Facebook page
One post in my monthly newsletter during each paid six month period 
A link to your page will appear on our Real Estate page similar to the example below.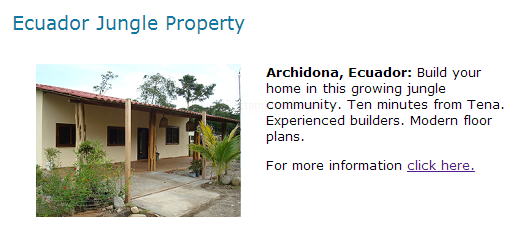 Additional Services:

Translation services: We can translate your ad and/or any communication between you and potential buyers for an additional fee
Pricing: $100 (USD) for first six months. Includes $50 fee for building page and one content edit (including photo changes). Unlimited price edits (you can change the price as many times as you need to).
Each renewal after the first six months: $50 for a six month listing.
Option #2) Your ad in our right-hand column on 250+ pages
Ad will appear on every page of Life-in-Ecuador.com.

Ad includes:
an image of your property

a one line description (ex. House for sale in Tena)

a link to your website or to your page on Life-in-Ecuador

ad appears below the Site Sponsors 
See examples in the right hand column of this page.
Pricing: $60/year 
Option #3) List your property on our Real Estate page
If you already have your own website listing for your property, you can list your property on our Real Estate page and link directly to your website.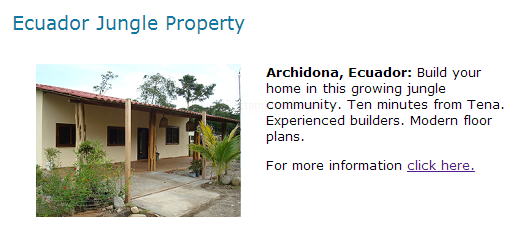 ---
---
Home
› Ecuador Ads
---