Ecuador Travel Directory
Looking for a complete Ecuador travel directory? Here it is....almost. All good things have to have a beginning, right? I'm inviting travel related businesses to contribute info on what they offer. From hotels, hostals and hosterías to travel agencies and restaurants.
I'm preparing for a big trip around the country and I've been searching for good info. I use Lonely Planet. I use Trip Advisor. I use Google. I find some good information and a lot of not so good information.
I want pictures!!! Good pictures of hotel rooms or where a tour is going to take me.
So I am hoping that this will be the start of something great. Something really helpful. I hope to be "sold" on each and every submission I receive.
As I travel I will be visiting these places and the ones I have personally found to be great will be marked "Recommended" by me. I will post comments on my experience, what I liked and what I didn't.
All contributions to this site will be reviewed by me to assure complete information is provided. Submissions without photos will not be accepted.
You Can Help!
You can also comment on the postings. Each will have a comment area at the bottom of the page. Tell me if your experience was good or bad. I appreciate it a lot, as will other travelers.
If you find a great business in your travels in Ecuador...let me know! Or let the business owner know that they can add their business to the directory for free.
This is a real grass roots operation and it will take me awhile to build this up to be a valuable source of information, so I really appreciate your help in this.

Para instrucciones en Español de cómo añadir su negocio por favor haga clic aquí.
---
The Directory
Search for hotels, restaurants and other travel related businesses by clicking on the region you will be traveling to on the map below.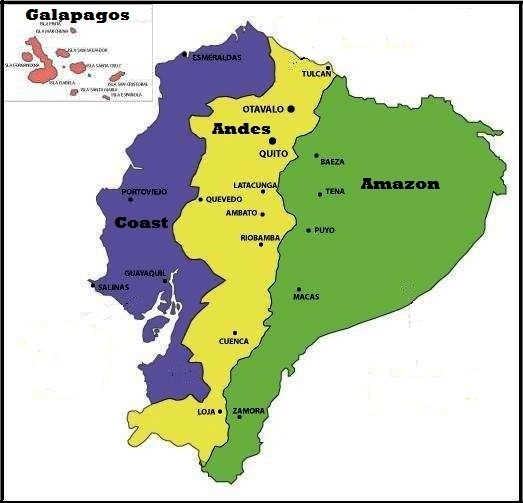 ---
Add your business to the Ecuador Travel Directory
Share your travel related business free of charge. Please include full contact information.

If you have any question about how to fill out this form please feel free to contact me and I will be glad to help.

Please note that submission with very little information and/or no contact information will be deleted.
Businesses Recently Added
Click below to see recent contributions to this page...

---
Home
› Travel Directory
---