Misahualli Ecuador
A popular tourist stop is the small town of Misahualli Ecuador (pronounced Mees-a-why-YEE). Located at the junction of the Misahuallí and Napo rivers this sleepy, end of the road town has beautiful jungle scenery and a large sandy beach.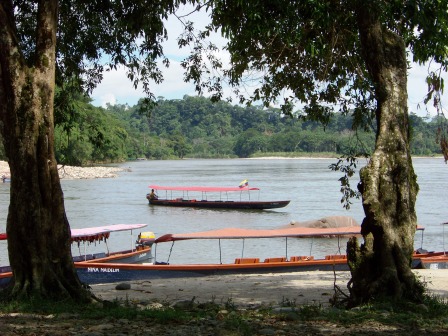 Animal Life
The most popular inhabitants of Misahualli are the monkeys. They wander along the beach and into the park at the center of town.

Be careful the monkeys are very mischievous and will steal anything they can get their hands on. Water bottles and food are their favorite things to snatch. Watch you cameras and sunglasses too.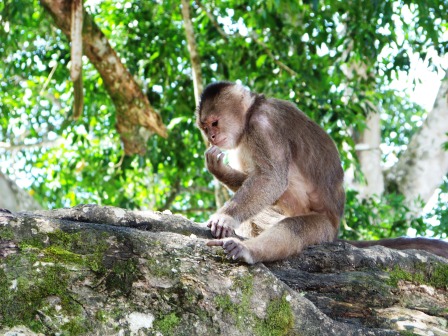 On a recent trip we were told to give the monkey an egg and an onion. A friend decided to try it out. The monkey opened and ate the egg, then used to onion to clean himself.
Another one of the monkeys pastimes is annoying the dogs of Misahualli. My dad has video of a monkey hanging from a tree over a sleeping dog. He dangled for a moment and then dropped right on top of the dog.
On another visit, we saw a puppy tumbling down the beach with a monkey. The puppy would stand up and the monkey would charge him again.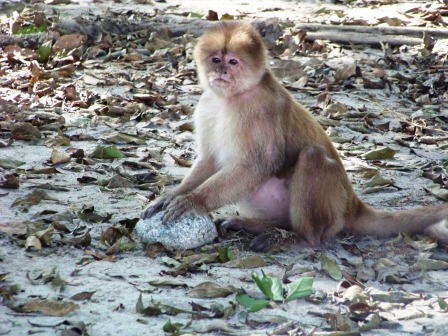 Things to Do
There is a nice butterfly farm in Misahualli just a block from the park. You can see some of the many butterfly species found in the jungle including the beautiful blue morpho butterfly.

Misahualli Ecuador is a nice place to do a quick jungle tour. Day trips are available, as are longer trips. Options include nature walks, waterfalls, and visiting indigenous communities. Watch out for unlicensed, inexperienced guides.
The nearby Latas Waterfall is impressive and worth the jungle walk.
In the past, Misahualli was the principle passageway to Coca, with travelers going by canoe. This is no longer necessary, but you can still hire a canoe and go down river.
If you just want a short canoe experience try going from Misahualli to Ahuano. Ahuano is the site of the new "International" Airport in the jungle. And you can either go back to Misahualli by canoe or take the bus to Tena from Ahuano. 

My Recent Visit
During a visit with my family, we drove down to Misahualli, mostly just to see the monkeys running around. It was a Saturday, which is the best day for possible tourist activity, so we were met by several different people offering tours.

One offer was for a canoe trip down river and a visit to a Kichwa community. It was only $10 for all four of us, so we decided to give it a try.
The canoe ride was great. Beautiful scenery. And a nice breeze in your face on a hot day.
At the Kichwa community there were dances and shaman services offered for an extra price. We weren't interested in either, so we just took a look around and checked out the gift shop.
One hour total time between leaving Misahualli and arriving back on the beach.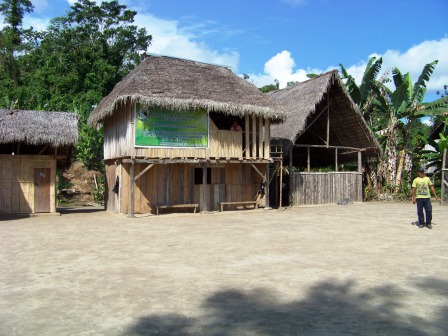 Carnaval in the Jungle
Misahualli is almost always quiet and deserted. But all of this changes for the weekend of Carnaval each year-usually mid-February. The beach has become a popular spot for concerts and parties, with thousands attending from around the country.

---
You may also enjoy these pages...
---
Home

›
Jungle
› Misahualli
---