Tena Restaurant Guide
When I started compiling this list of restaurants, I was amazed at how many different places there are. We often complain that there is no where to eat in Tena. But I guess we were wrong.
The categories below are very basic. Some of the lunch places are open for dinner, some of the ice cream places serve food, etc.
 Breakfast  Lunch  Pizza  Burgers  Ethnic  Fast Food  
Ice Cream/Coffee  Seafood  Fancy
---
Breakfast
Cafe Tortuga
Cafe Tortuga is open all day M-Sat and until noon on Sunday. I put it specifically in the breakfast category, because they have the best breakfast options in town. Not only the typical Ecuadorian breakfast, but pancakes, muesli and real coffee!

Other than breakfast, Cafe Tortuga is great for a quick snack (try their chocolate cake!) or a cup of coffee.
Find it! Cafe Tortuga is right along the east side of the river on Calle Orellana less than a block from the walking bridge.
---
Lunch
Pollo Sin Rival
Pollo Sin Rival lives up to its name. It has the best chicken in Tena. It is only open for lunch and serves a basic roast chicken with rice, yuca and plantain meal.

It's a great option for take out. They will bundle up the whole meal and you can take it home, dissect it and make it into an even more fabulous meal.
Find it! Pollo Sin Rival is just a "hole in the wall" on the main street of Tena (15 de noviembre), just a block south of the terminal. Blink and you'll miss it! If you start walking south from TIA it's across the street half a block down.
---
Safari
If you're looking for a quick lunch near the terminal, Safari is a typical Ecuadorian lunch place that I haven't been sick at. You call also get a plate of Arroz con Pollo if you don't like the sound of the set lunch menu.
Find it! Three blocks south of the terminal (on the main road). A block before the hospital.
---
Pizza
Bella Selva
The best pizza in Tena. And they deliver. Just make sure to include your address-sometimes they forget to ask. Beside pizza they also have a variety of dishes, from seafood to lasagna to arroz con pollo.

There are several different Pizzerias Bella Selva all owned by the same family.
Find it! The main restaurant right next to the old walking bridge on the side with Farmacias Economicas. Down a small flight of stairs on your right when facing the pharmacy.
---
Guayusa Lounge
This has quickly become one of our favorite places in Tena. With great ambiance and good food it's a great place to relax or surf the net on their WiFi. They have pizza, sandwiches, fajitas and cocktails. What more could you ask for?!

Find it! From the car bridge go straight to CNT. Continue walking away from the bridge one block more. You will see Guayusa on the left.
---
Hut Cheese Pizza
It's not Pizza Hut, but they try. The pizzas are good. Prices are decent. The restaurant is large enough for big groups. 

Find It! A block toward the bridge from the gas station in the center of town.
---
Pizzeria Hilton
This pizza is ok. The price is a bit high.
Find It! On the curve in front of the car bridge.
---
Pizza Rizza
I wouldn't recommend any street food unless I was completely sure it was safe. Pizza Rizza is right outside of TIA most evenings - look for the yellow cart and big umbrella. The food is very safe. And a slice of pizza and a cup of soda is only $1.
Find it! Right outside the front door of TIA across from the terminal. 
---
Burgers 
Iguana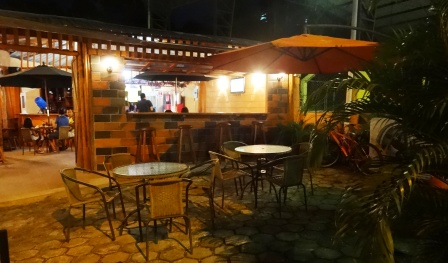 Iguana is our FAVORITE restaurant. The food isn't what makes it. It's the ambiance. You can sit outside or in. It's right in front of a park where the kids can burn of some extra energy before dinner. A soccer game is inevitably on the big screen. And the food is pretty good too. The BBQ Wings and the Everything Burgers are popular. Iguana is only open after 7 pm, M-Sat.
Find it! Found in the Barrio Bella Vista Baja. When standing on the east end of the walking bridge cross the main street to the steet directly in front of you (9 de octubre) and follow that road straight back until you hit Iguana.
---
La Era del Sorbete
This food truck has the tastiest burgers in town...with a hidden surprise ingredient that make them A-M-A-Z-I-N-G! They also have yummy fries, sandwiches, pizzas and sorbetes (ice cream shakes).
Find it! Right next to the entrance to the old foot bridge on the same side of the river as Farmacias Economicas and the Banco del Austro.
---
Papas a lo Bruto
Another good place for a burger and fries. Nothing special, but clean. The chicken sandwich is good.
Find it! A block south of the bridge on the main road. Look for Shrek's tongue.
---
Ethnic
There aren't very many ethnic options in Tena. There are two Chinese restaurants that I haven't included in my list. I don't like either restaurant.

---
Parrilladas del Manaba

Not really ethnic. Ecuadorian barbeque is what I'd call it. But it sure is good. And the prices are good as well.
Find it! Near the first large roundabout as you come into Tena from Quito. In front of the Colegio Nacional. Look for the tiki torches.
They also have a restaurant by the same name in town near the gas station where the main road forks into two. Look for outdoor seating and an enormous grill.
---
Fast Food 
MatDan
This chain restaurant serve fried chicken and fries. If you like fried food you will probably like MatDan.
Find it! Two locations. One is directly in front of TIA by the terminal. The other by the Jumandy roundabout, in front of the Colegio Nacional.
---
Ice Cream and Coffee
Tena can be hot. And ice cream can be a life saver!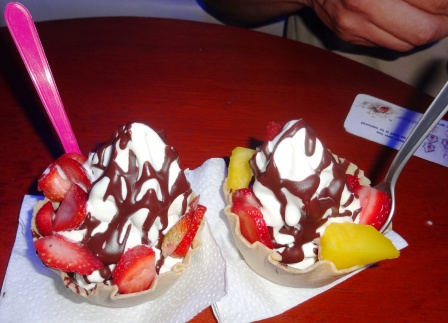 San Nicolas
A great place for batidos or a tall glass of orange juice. They have ice cream and a selection of cakes. Try their chicken empanadas when they are available. You can also get breakfast and good coffee. Open at 10 am.
Find it! South on the main road beyond TIA and the terminal. On the block after TIA on the far corner.
---
Napoles
This little coffee house almost reminded me of sitting in a cool coffee place in Quito (maybe it was because it was a cold and rainy day). The coffee was great and they have a variety of cakes and sandwiches.
Find It! Beyond the hospital as you head toward Puerto Napo/Puyo on the main road. Look for large brown sign and planted shrubs.
There is another location on the other side of the walking bridge. Go straight one block and then turn right. It's about halfway up the block.
---
Lorens
This ice cream shop is best for juice and shakes. Their ice cream isn't great and the cream toppings taste like soap. But the batidos are great! They also run the Batido shop right off the west side of the foot bridge.
Find it! On the main road on the block just south of the walking bridge. On the corner right under the Hotel Lorens.
---
NiceCream
National chain serving soft serve ice cream with a variety of toppings. Very popular. Try the Frozen Mochaccino.

Find it! Two blocks from the walking bridge on the main road.
---
Seafood 
Be careful when eating seafood in Tena. It's distance from the ocean makes it possible that deliveries of seafood aren't as fresh as one would desire. I do eat seafood in Tena at these restaurants.
Ecuadorians say that eating seafood after dark will make you sick. So seafood restaurants are only open in the afternoon.
El Sitio
This restaurant is on edge of town heading toward Puyo, but it's one of the best seafood places in Tena. The prices are on the high side, but these people know how to make some good seafood.

Find it! Follow the 15 de noviembre (main street) beyond the hospital until you see the Hotel Cruscaspi. El Sitio is opposite the hotel.
---
Marisqueria Do Memin


A great place for seafood . Good price. Yummy ceviche. Ask for their bubbly limeade (limonada).
Find it! As you come off the car bridge going east turn left at first street. Restaurant is on the corner. Look for tables with umbrellas. Open only for lunch.
---
Fancy
There are a couple of fancier restaurants in Tena. Doesn't mean you need to dress up, but you will find a few more menu items that you might not find elsewhere and double digit price tags.

Chuquitos

One of the oldest restaurants in Tena, Chuquitos has recently been remodeled. The river view is the probably the best in Tena.
Find it! On the west side of the walking bridge take an immediate right. The entrance to Chuquitos is two or three doors down.
---
 El Marquis
The Marquis does it's best to have a fancy atmosphere, but we are still in the jungle after all. The food is good and some of the menu items are unique finds in Tena.

Many of my friends like to go here for special occasions like anniversaries.

Find it! On the west side of the river two block from the walking bridge. Across the street from the Jose Pelaez Elementary School.

 
---
"What about Cositas Ricas?" I've raved about Cositas Ricas on Facebook. But this constant feature of Tena for decades closed down a while back. I guess now I'll only be able to dream about their amazing garlic shrimp. :(
There is a new version of Cositas Ricas run by the same family just across the street from the old location. I can't remember what it's called....something Verde. It's good; but I've only been there twice since they opened.
I would love to hear about your favorite restaurant in Tena whether it be one of the places I've listed or someplace else. Use the Comment Box below to tell us about your experience.
---
You may also enjoy these pages...
---
Home

›
Tena
› Tena Restaurant Guide
---