Hut Cheese Pizza
Tena, Ecuador

Enjoy good pizza, salads, BBQ wings are more! This large restaurant is great for meeting up with friends and the view out the back windows is really nice.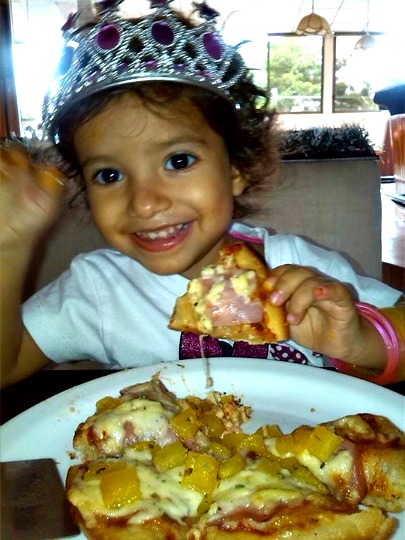 ---
Menu
Pizzas

Hut Cheese
Cheese, ham, sausage, green pepper, onion and mushrooms
Small 8.35    Medium 12.45    Large 16.95

Chicken Bacon Ham
Cheese, chicken, bacon and ham
Small 8.50    Medium 13.25    Large 17.65

Crazy Ham
Cheese and 80 slices of ham

Hot Chicken BBQ
Cheese, chicken, barbeque sauce, onion, bacon and mushrooms

Beef Lovers
Double cheese, salami, ham, bacon and sausage 
Small 8.75    Medium 13.95    Large 17.99

Pomodoro
Cheese, fresh tomatoes, bacon, mushrooms and oregano sauce
Small 7.60    Medium 11.95    Large 15.65

Pizza Light
Cheese, mushrooms, green peppers, onion, tomato, olives and sweet corn
Small 7.95    Medium 11.95    Large 14.95

Solo Mia
Cheese, mushrooms and ham

Hawaiian Hut
Extra cheese, double ham and double pineapple

Sides
Chicken Rolls
3.65

Hut Wings
3.75

Garlic Bread
2.75


Salads

House
Lettuce, carrot, tomoto, and purple cabbage with yogurt dressing
Small 2.65    Large 3.65

Super
House salad with ham, pepperoni, mozzarella, white onion, olives, green pepper and croutons with yogurt dressing
Small 3.85    Large 4.85
    
Honey Mustard
Lettuce, bacon, ham, and cheddar cheese with honey mustard dressing

Specials
Early Bird Special
Available from 12 noon until 7 pm
2 Medium 2 Topping Pizzas
19.90

Kids Meal
Personal Pizza - Small Soda - Huevo Kinder
3.75

Crazy Tuesdays
Buy one Large or Medium Pizza plus a Large Salad
and get Another Pizza FREE

Combo Ideal
Medium Pizza - BBQ Wings - Small Salad - Soda
19.95

Free Delivery
2-888-408
098-384-0664
---
Directions
Hut Cheese Pizza is located on Av 15 de noviembre a block from the gas station in the middle of town.
---
Home

›

Jungle Directory
› Hut Cheese Pizza
Home

›

VIP Partners
› Hut Cheese Pizza
---