La Ronda Quito
La Ronda in Quito is a beautiful street in the Historic Center of the city. It is said to be one of the oldest streets in Quito and has been nicely restored.

It sits close to the base of the famous "Panecillo" hill which is crowned with a winged virgin statue.
History
An ancient path which followed the small Ullaguanga-huayaco creek was the beginning of what is now called Calle La Ronda. The path was slowly lined with houses until the late 18th century when it is said to appear similar to today.
During the early 20th century La Ronda Quito became the home of poets, musicians and politicians who left their mark on Ecuadorian history. The renovated street now has informational signs which tell about some of these people and houses they lived in.
La Ronda Today
We walked la Ronda as part of our wandering through Old Town Quito. We enjoyed the stroll through part of the history of Quito.
To get to the la Ronda from the Plaza Grande head southwest on Garcia Moreno. After about four blocks you will come to Juan de Dios Morales (the official street name of La Ronda). Turn left and enjoy.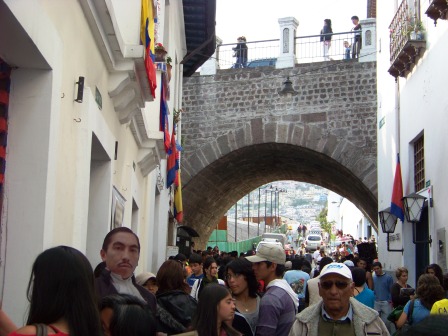 The street is narrow and pretty. We were there during the fiestas of Quito so it was full of people.
A band was playing under a the small bridge that passes overhead, with a crowd gathered round. Small shops selling typical Ecuadorian snacks were filled with people. And little gift shops displayed a variety of crafts.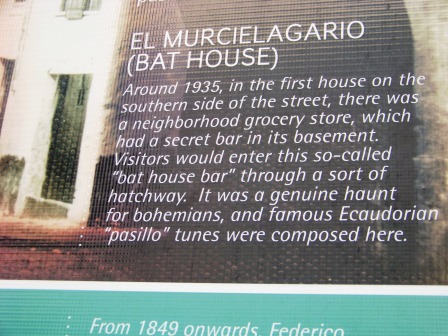 The houses are built one right next to the other. Inside many have a small courtyard with a garden. One has steps descending underground to places where a secret bar called "The Bat House" was hidden.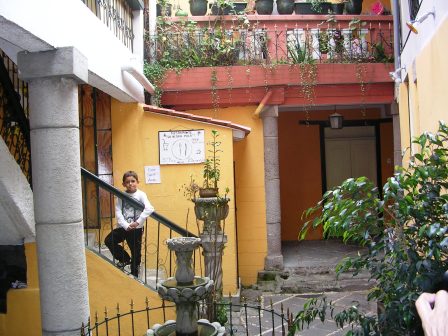 ---
You may also enjoy these pages...
---
Home

›
Quito
› La Ronda
---