Ecuador Food Tour
If you love to taste new things while traveling, our suggested list of Ecuador food can help you plan a trip full of various flavors, colors and aromas.
Ecuador Food Favorites
I'm trying to organize this the best way possible...so we are going to break this down, but region and city. At the end of each region and at the end of the page is a list of several items that you will find in many locations, so keep you eyes out for these as you travel.
Note: Many of these foods are so popular that you will find restaurants serving them in just about every corner of the country. Recommendations on where to eat each plate are based on what people commonly believe is the BEST place to eat that specific dish. So keep your eyes open...even if you can't make it to each city you may have the opportunity to tick lots of these off your "must-try" list.

Vegetarian options (or options that can easily be made vegetarian) are marked with a ☆.  For additonal tips for vegetarians and vegans, see this page. Please note that a lot of Ecuadorians do cook with "manteca" or animal lard. You may need to specify "no manteca" even when a dish is marked vegetarian.

See our map of the following Ecuador food information or download a pdf checklist of the must-try foods.
---
Navigate to Ecuador Food From: 
The Andes   The Coast   The Amazon   All over Ecuador   For the Brave

---
Ecuador Food in The Andes
Ambato
☆ Llapingachos (main dish): My number one, most favorite Ecuador food dish is definitely llapingachos! Cheesy, buttery potato patties served with eggs, avocado, chorizo and traditionally (but not always) with peanut sauce. Even if you aren't the adventurous type you'll love this dish.
Where to eat: You can find llapingachos almost anywhere in Ecuador, but it is more common in the mountains. It originated in Ambato, and some say the best place to eat llapingachos is in one of the many markets in Ambato.
---
☆ Mote (side dish): Very similar to hominy and found often in the mountains. This is more of a side dish that is served with a variety of different main dishes.
Where to eat: I always think of Ambato when I think of mote.
---
Cayambe
☆ Bizcochos (snack): Buttery, crunchy bread sticks served with string cheese and dulce de leche.
Where to eat: Cayambe is famous for their bizcochos.
---
Otavalo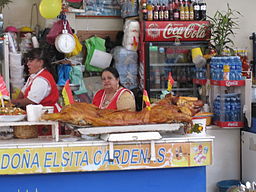 Hornado
Hornado (main dish): Roast pork in another popular mountain dish. The pork is marinade and then slowly roasted for hours. There are variations of the dish throughout the country. 
Where to eat: The winner of the first ever Hornado Championship sells what could be the best hornado in all Ecuador. You can find her at the Otavalo Market. You can try hornado throughout Ecuador's Andes for different flavors.

---
Ibarra
☆ Helados de paila (snack): This ice cream is made from fruit juice in a special copper pot. 
Where to eat: You will find helados de paila everywhere, but Ibarra is where the tradition began.
---
Quito
☆ Locro de papas (main dish): Potatos are an everyday staple of the mountians. This silky potato soup is my favorite soup in Ecuador. Fresh avocados are added for a buttery combinations. Yummmm!
Where to eat: Although you can find the locro de papa as part of an almuerzo throughout the country, Quito claims the soup as its own. 
---
Baños
☆ Melcocha (snack): As you walk through Baños you will see people making this sugar cane taffy. It's colorful and sweet.
Where to eat: Baños is famous for their melcocha. Vendors will often let you have a taste of the taffy they are pulling.
---
Cuenca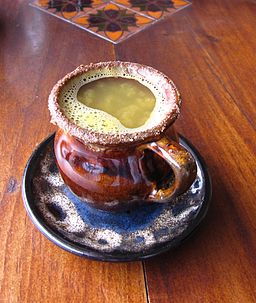 Canelazo
☆ Canelazo (alcoholic drink): Canelazo is a comforting hot drink served in the mountains of Ecuador. It is made from canela (cinnamon), aguardiente and fruit juice (usually naranjilla).
Where to drink: Canelazo is available throughout the Andes, but I always think Cuenca when I see it.
---
Vilcabamba
Seco de Chivo or de Borrego (main dish): Ecuadorian secos are not dry as the name suggests. Secos de pollo (chicken) or de carne (beef) are everyday fare, where chivo (goat) and borrego (lamb) are usually for special occasions. The goat or lamb meat is stewed in chicha (or beer) and panela along with veggies and spices. Then served over rice.
Where to eat: Look for this dish during festivals. Vilcabamba and other mountain towns are a good bet.
---
Popular Throughout the Andes
Fritada (main dish/snack): Pork that has been boiled and then browned in it's own fat. Fritada is super popular. 
Where to eat: Fritada can be found almost anywhere in Ecuador, but is more common in the mountains.
---
☆ Dulce de higos (snack): Figs are soaked and then cooked in panela and spices. The figs are served with cheese and drizzled with the panela syrup. Super sweet.
Where to eat: Found throughout the Andes.
---
See some of our favorite images of Ecuador Food from all over the web...
Follow Life in Ecuador's board Que Rico! Food from Ecuador on Pinterest.
---
Ecuador Food on the Coast
Guayaquil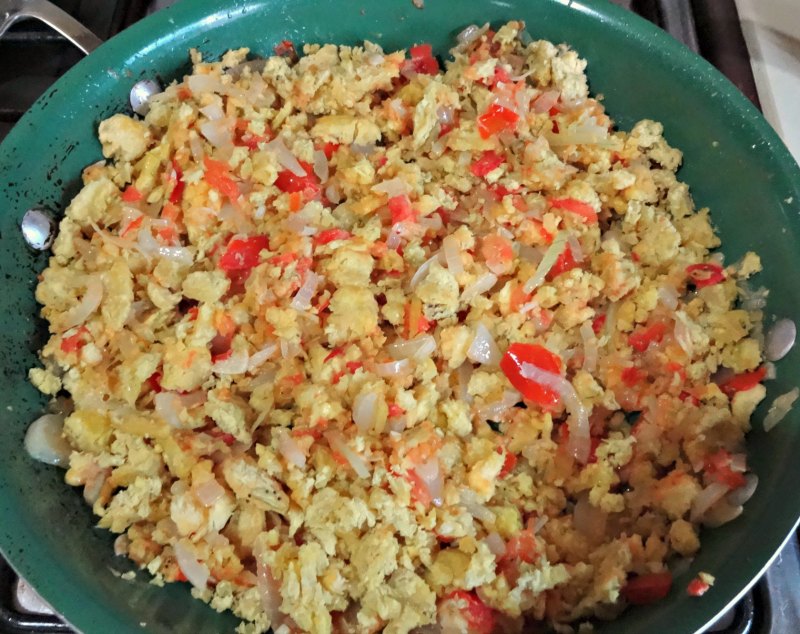 Majado de verde
☆ Majado de verde: Typically served for breakfast, this is a filling dish made from green plantains. It kind of looks like off-color, chunky mashed potatoes and can be served with eggs.
Where to eat: This is a traditional breakfast on the coast of Ecuador. Try it in Guayaquil or other coastal towns.
---
Encebollado: Another famed hangover cure, encebollados are often served on the weekends for breakfast. This is a fish and onion soup usually served with chifles (plantain chips) and popcorn.
Where to eat: This is another dish that is popular all over Ecuador, but it does originate from the coast. Try some encebollado in Guayaquil.
---
Bolon de verde soup: Instead of flour dumplings, how about plantain balls filled with a variety of ingredients (veggies, chorizo) in your soup? Delicious! 
Where to eat: Guayaquil or other places along the coast.
---
Canoa
Camarones al ajillo: Shrimp in garlic sauce. My favorite dish on the Coast!
Where to eat: I've eaten a lot of Camarons al Ajillo and my favorite spot was in Canoa!
---
☆ Caipiriña (alcoholic drink): Refreshing limeade made with sugar cane liqueur.
Where to drink: On the beach in Canoa! Bambu Restaurant is perfect to put your feet in the sand and sip a caipiriña.
---
Atacames
Encocados: Encocados are different seafoods cook in coconut water. And are one of the most popular dishes on the coast.
Where to eat: The best encocados are said to be found in the Esmeraldas Provence. Try Atacames. 
---
Popular All Over the Coast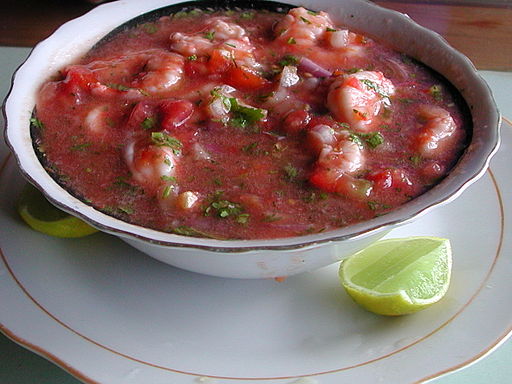 Shrimp Ceviche
Ceviche: Ceviche is made in different ways all over the world. Ecuador has its version as well. You can get shrimp, fish, clam. Make sure to add some mustard, a dash of ketchup, and some popcorn.
Where to eat: The best place for super fresh ceviche is along the coast. The Provence of Manabi in particular.
---
Ecuador Food in the Amazon
Puyo
Ceviche Volquetero: This ceviche is made with tuna, chochos, maiz tostado, onion and plantains. 
Where to eat: This is a typical dish from Puyo. There are several restaurants along the Puyo River where Volqueteros are served.
---
☆ Jugo de caña (drink): Juice fresh from a stalk of sugar cane.
Where to eat: You can see vendors with stalks of sugar cane in Puyo and Tena.
---
Tena
Maitos: Maitos are a traditional Ecuador food from the Amazon region. The maito itself refers to the cooking of food in bijao leaves over a grill. You can get a variety of meats cooked as maitos, but probably the most popular is the Tilapia Maitos. The taste is so amazing...you'd think the fish had been well seasoned prior to cooking, but it isn't.
Where to eat: Tena and Archidona are great places for maitos of any variety.
---
☆ Fried sweet plantains with cheese (snack/street food): Grilled sweet plantains are filled with cheese and mayonnaise. 
Where to eat: A popular street food. Try it in Tena.
---
All Over Ecuador Plates
☆ Menestra: In Ecuador, menestra is made by stewing either beans or lentils. Lentil menestra is AMAZING! :)
Where to eat: This may sound strange, but the best, most consistent menestra I've had in Ecuador is at a fast food chain...Menestras del Negro. You can find it in Quito, Guayaquil and several other large cities.
---
☆ Chochos y maiz tostado: Prepared just live ceviche, with lemon and onions, this is a very popular street food in Ecuador.
Where to eat: Be very careful if you eat this on the street. I've personally seen vendors scoop out the chochos with their hands (the same hands they handle money with). We just bought a prepackaged version of ceviche de chochos at the supermarket. Or try to prepare your own with some Ecuadorian friends at home.
---
☆ Aji: The Ecuadorian equivalent of a Mexican salsa, aji is always on the table. You will find a different variety at almost every restaurant you try. Some are hot; some are mild. Tree tomato is a popular ingredient.
Where to eat: Everywhere! Try as many as you can.
---
☆ Pan de yuca (snack): These little rolls are made from yuca flour with cheese. They are often served with drinkable yogurt.
Where to eat: There is a popular chain of Pan de Yuca stalls in malls and you can also often find street vendor who sell it as well.
---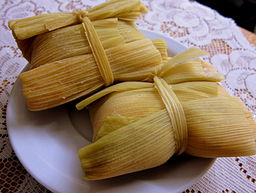 Humitas
☆ Humitas (snack): Ground corn and cheese steamed in corn husks. You may mistake them for Mexican tamales, but they are different.
---
☆ Quimbolitos (snack): Another snack cooked in leaves. This time it's achira leaves. Quimbolitos are a sweet cake with raisins. Super good!
---
☆ Empanadas (snack): There are lots of varieties of empanadas in Ecuador. Sometimes they are filled with chicken and veggies. Sometimes the bread is made of plantain flour (empanadas de verde). But the most popular empanada sold in bread shops are filled with cheese and topped with sugar.
---
☆ Morocho (snack/drink): Super popular and often sold on the street, morocho is a mix of maize, cinnamon and milk similar to rice pudding.
---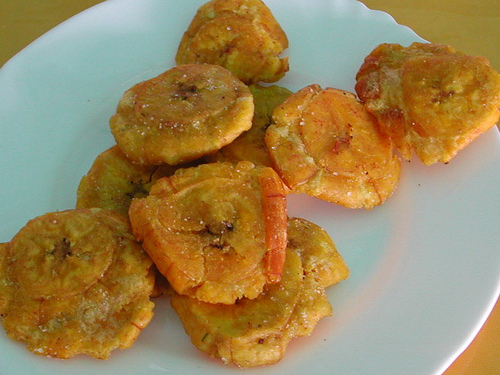 Patacones
☆ Patacones (snack): A tasty alternative to french fries, patacones are served with many meals or you can order a side order at most restaurants. Patacones are made from green plantains that are sliced, fried, smashed and then re-fried. Other Latin countries often call them tostones. 
---
☆ Batido de mora (drink): Fruit shakes made with milk are popular in Ecuador. There is an unending variety of fruit flavors to choose from. One of the most popular is mora which is similar to a blackberry. Batidos are a great way to experience the many fruits grown in Ecuador.
---
☆ Colada de avena (drink): Often referred to as Quaker (cua-ker), this oatmeal drink is very common in Ecuador. Oatmeal is soaked in water then sweetened with panela and naranjilla juice.
---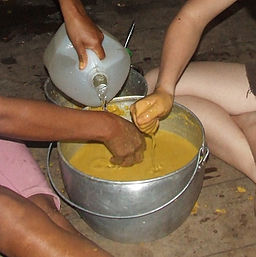 Chicha de Chonta
☆ Chicha (alcoholic drink): Chicha is made from a variety of fermented ingredients depending on the region of Ecuador. In the mountains it is made from corn. In the Amazon from yuca or chonta. 
Where to drink: If you are in Otavalo during their September fiestas you can try a variety of different chichas.
---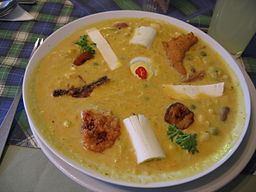 Fanesca
Fanesca (seasonal): This soup is traditional during Easter. It is made with several different grains and cod. There are over 20 ingredients that go into Fanesca, which may be part of the reason it's only available once a year.
---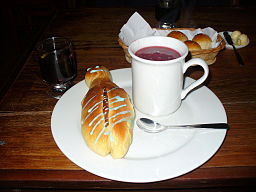 Colada Morado with Guagua de Pan
☆ Colada morada (seasonal): This thick fruit drink is made at the end of October and beginning of November for the Day of the Dead. The purple color comes from the purple corn flour. For Day of the Dead it is served with Guaguas de pan (breads shape and decorated to look like babies). If you are alert you can find colada morada at other times of the year.
---
"Some-Might-Label-You-Crazy" Ecuadorian Cuisine
Guatita: Stewed tripe? Gross! Or is it? Well you'll have to try it. One of Ecuador's favorite dishes, guatita has change many people's mind about tripe. The strong flavor of the cow's stomach is mixed with a peanut sauce. Rice, avocado, tomato and onions are typically served with the tripe. 
Where to eat: Guatita is believed to cure hangovers, so you often will see it served for breakfast.
---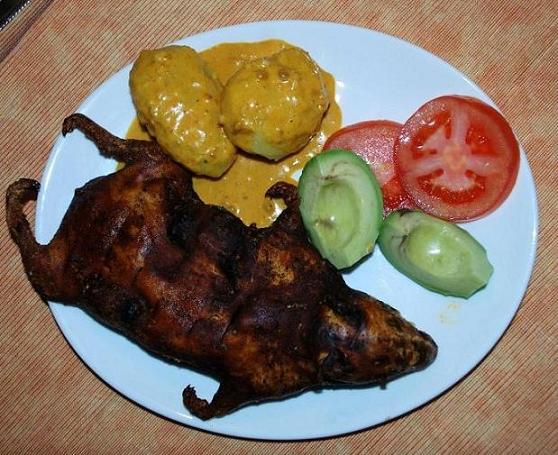 Cuy - Guinea Pig
Cuy: Probably the most talked about Ecuador food. Guinea pigs roasted on skewers can be seen at roadside stands and at restaurants. And I hear it DOESN'T taste like chicken.
Where to eat: Some say Cuenca is the best place to try cuy, but it is for sale all over the mountains.
---
Chontacurros: Amazon grubs that are said to ward off respitory problems. Some eat them raw, fried, or in maitos.
Where to eat: You can buy your own "wigglers" at the Tena market or at several restaurants in Tena that offer maitos de chontacurros.
---
Caldo de pata: If the look of a meal can spoil it for you, you may not like the look of caldo de pata. Cow hooves float in the soup. If you can get beyond the visual, you might just love it!

---
Yaguarlocro: This is one I will NOT eat. Thick soup with dried blood.
---
This is only a sampling of the huge variety of Ecuador food. Which is your favorite? Which did you hate? And what other great options did we miss? Let us know below in the comments.
---
Home

›
Travel Guides
› Ecuador Food Tour
---