Vegan in Ecuador
or Vegetarian in Ecuador

For many years we have lived as vegetarians and, more recently, as vegan in Ecuador. When I arrived with my family as a teenager, my parents decided to avoid meat due to the way it was slaughtered, sold and stored. Open air markets, no refrigeration, flies, and even pesticides sprayed directly on the meat to keep away the flies. 
A side note for meat lovers: Laws have been passed in Ecuador requiring that meat for sale be stored in refrigerated cases, thus eliminating much of what I just mentioned. Yeah!
Personally, I have never been a meat eater, but the purpose of this page isn't to discuss why I prefer to avoid meat or about the pros/cons of a certain diet. Instead, for those out there who are vegetarian or vegan, I want to talk about how easy (or hard!) it is to keep to that diet while traveling and living in Ecuador.
I apologize for my bad cell phone photos!
Under the avocado, tomato and sweet plantain is brown rice and black beans.
Living Vegan in Ecuador
In every corner of Ecuador, you will find beautiful markets filled with a variety fresh produce, grains and spices. In bigger cities there are organic markets as well. All this variety makes living vegan in Ecuador quite easy.
We live on avocados, tomatoes, plantains, pineapples, papayas and bananas. If we don't have any of the aforementioned, the house feels empty. We also eat lots of beans, brown rice, garbanzos, and lentils. All of which are easy to come by in Ecuador. 
Produce items that are not as common in Ecuadorian cooking can be found at larger grocery stores. Example: In the photo below asparagus and yellow bell pepper was added to the stir-fry, both of which we found at our local TIA supermarket, but aren't readily available at most produce stands.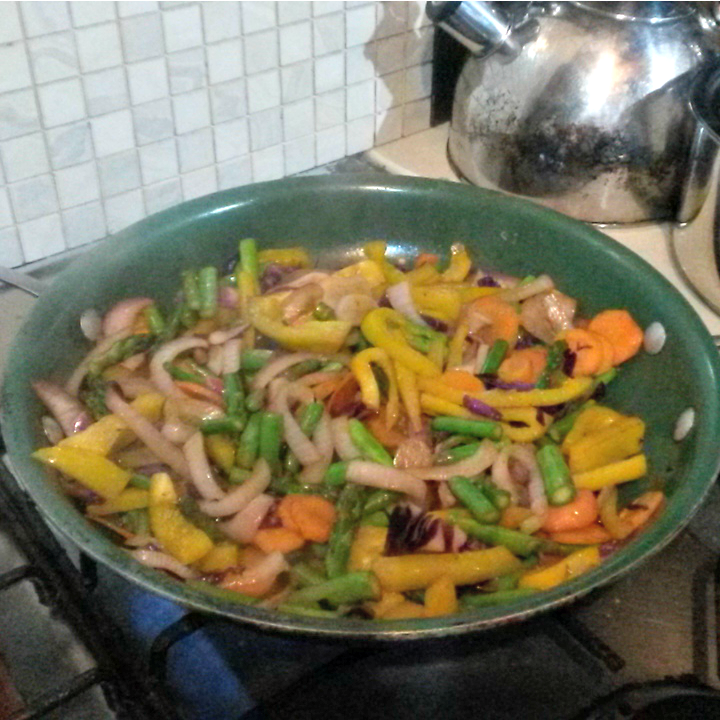 When you live in an area you will get to know other shops that have specialty items. We have a great little store where we are able to buy garbanzo beans (canned and dried), flax seed (whole and ground) and whole grain oatmeal (the oatmeal sold in most stores is ground up to use in the oatmeal drinks made by Ecuadorian families, look for "avena en hojuela grande o cruda").
We make our own bread at home. Bread sold in bakeries often contains milk, eggs, or lard. Probably the closest vegan bakery option is "pan de agua", which is a simple, crusty bread made with water, sugar, salt, yeast and flour. In some cases they do brush this bread with egg whites for extra crispiness. 
For vegans looking for dairy substitutes, these can be a bit harder to find. I have personally looked all over Tena for soy or almond milk. I did find a box of soy milk only to find it had cow's milk in it. I also found almond milk, but the price was really high for Ecuador. Just recently I also saw bags of nuts, which I could use to make my own "milks".
In big cities with SuperMaxi or other similar chain grocers, you can find dairy alternatives. Prices are high, but not as bad as in my little jungle city.
I've noticed that in the States some vegans work really hard to substitute their milk in dairy with similar vegan products (like vegan sausages). I find it easier here in Ecuador to not even try to substitute things, instead we just eat lots of fresh fruit and veggies. Adding in grains and legumes completes the meal. Vegetable soups have been a great alternative for my soup-loving Ecuadorian husband.
You will also get to know the vegetarian restaurant options in your area. We only have a few places that offer vegetarian meals, so we just end up eating mostly at home.
Traveling Vegan in Ecuador
I would consider myself an 80% vegan in Ecuador. My parents on the other hand are hard core vegans. So we were a little hesitant to travel. We weren't sure what we would find. Even so we took a road trip. Here's what we learned...

Ask if there are no options on the menu.
The first night my parents were in Ecuador, they stayed at a pretty fancy hotel. They decided to have lunch at the hotel restaurant before leaving. Although there were no vegan options on the menu, they asked what the kitchen could prepare. They were pleasantly surprised with the meal. 100% vegan in Ecuador. 

Small, non-touristy towns are hard.
As part of our road trip we visited Zamora, a small town in the far south of Ecuador. The town isn't very tourist oriented, which meant there weren't many restaurant options. We had a really hard time finding places to eat. I don't think we ever ate at a place with a vegetarian option.
My dad did find a lady in the market that makes fruit smoothies. He went down each morning with his bag of flax seed and had her make smoothies for the whole family.
Big cities and tourist towns have more options.
Tourist towns tend to have a greater variety of restaurants. The owners of these restaurants have realized that there are many travelers that want vegetarian options. This makes it easier to find the food you would prefer to eat.
In Cuenca, we ate some amazing vegan Indian cuisine and in Loja we found a Mexican restaurant with vegan options.
Short-term apartment rentals make life easier.
We found that short-term apartment rentals or hotels with communal kitchens were the way to go. This way you can prepare your own food. Wandering around looking for a good place to eat became stressful. We ended up preferring to buy and prepare our own breakfasts during the entire trip as well as some lunches and dinners.
You can bring snacks from home.
My parents brought quite a few food items from the States. This helped supplement meals and also provided snacks while traveling. You can also stock up on snacks at the big grocery stores in Ecuador, so that you're sure to have an option in a pinch.
When you're invited to dinner?
Ecuadorians are hospitable people. You will probably develop friendships with the people while living or traveling here. This could lead to a lunch or dinner invitation. 
There aren't many locals who are vegetarian or vegan in Ecuador. Many do think that foreigners as a whole "eat a lot of salads". However, a typical Ecuadorian meal will probably contain meat of some sort. 
As I mentioned earlier, I'm not all that strict with my vegan diet. Plus my personality causes me to prefer to be uncomfortable rather than make others uncomfortable. So I usually just go with whatever I'm served.
You CAN let your hosts know that you don't eat meat, preferably as soon as the invitation is extended. The people are very accommodating and will try offer you a meat free option. 
---
You may also enjoy these pages...
---
Home

›
Moving Checklist
› Vegan in Ecuador
---