Ecuador Day of the Dead
In Ecuador, the Day of the Dead or "Dia de los Difuntos" is celebrated on November 2nd. It is one of the most popular holidays in Ecuador. Since it falls one day before the Independence of Cuenca (both days are bank holidays), the two days make for a nice long vacation during which many people travel.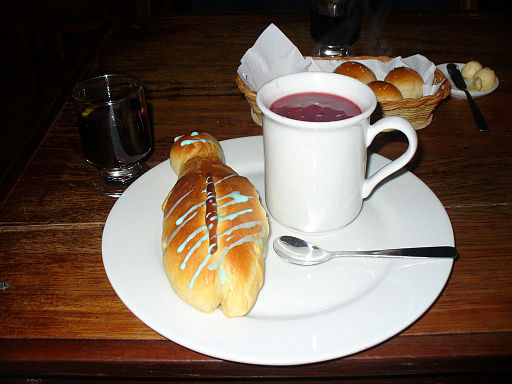 Colada Morada and Guaguas de Pan for the Day of the Dead in Ecuador
Loaded with Tradition
Many of the traditions associated with the Day of the Dead go back to before the arrival of the Spanish conquistadors. The native people had their own burial rites and ways of remembering their ancestors. These customs were adopted by the Catholic church in an attempt to bring these indigenous people to salvation.
The Catholic calendar designates November 2nd as All Souls Day, when prayers are offered for souls that are in purgatory. 

Colada Morada
The colada morada is probably the most common tradition related to the Dia de los Difuntos. This thick, fruit filled drink (some serve it as more of a soup) gets its purple color from a mixture of fruits and blue corn flour. It has a unique taste from the different spices added. 

The exact preparation varies by family and region. Some serve it hot or warm; others prefer it chilled.

The colada morada was traditionally used during the burial rites for the dead. It apparently started out as a mixture of corn flour, potatoes, beans, peas, cabbage, achoite and llama blood that has evolved into the fruit version popular today.
Now, every November 2, thousands of people bring this purple drink to the graves of their dead loved ones. One website called it Ecuador's Eggnog, because of its popularity and the fact that it is typically only available during the season around the November holiday.
Guaguas de Pan
Another tradition are the guaguas de pan. Guagua is the Quichua word for baby, so this is translated "Bread Babies." The indigenous people of Ecuador traditionally left these at the burial site when someone died to mark the grave and to give the dead one food to eat.
In the early 19th century the Catholics adopted this custom, but the guaguas weren't edible. They  were made specifically to decorate the graves. 
Today every bread shop in the country sells guaguas in the days leading up to the Day of the Dead. They are usually shaped like swaddled babies and decorated with colored icing. Some are filled with jelly.
Visiting Family
On the Dia de los Difuntos, entire families go to the cemetery to visit their dead loved ones. They sometimes bring a complete meal (usually the deceased's favorite) along with the guaguas de pan and colada morada. This meal is shared with the dead, the graves are decorated and prayers are offered.
---
You may also enjoy these pages...

---
Home

›
Ecuador Facts
› Day of the Dead
---