Canoa Ecuador
Canoa Ecuador is a beautiful spot on the Northern Pacific Coast. Located just north of Bahia de Caraquez in the province of Manabi, you'll find a small town full of fun. The sandy beach stretches north toward towering cliffs that can be explored at low tide.

The town has lots of guesthouses, hotels and restaurants to choose from, with something for all budgets. Check out where we stayed the first time around in Canoa Ecuador.

The Surf
At low tide the Canoa beach seems to be miles long and miles WIDE. The receding tide leaves behind shells and at times tiny turquoise-blue jellyfish. Bright red crabs can also be seen scurrying along the beach.
High tide arouses the surfers. Canoa fills up between December and February with surfers looking for the best waves of the year.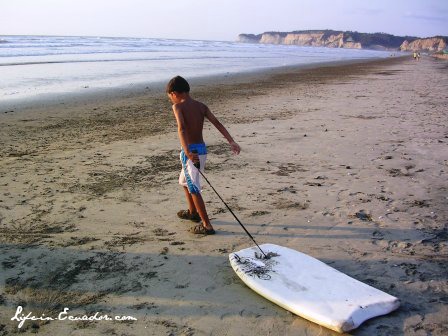 The most surprising thing to me when we were in Canoa -December 2012 and May 2018- was the water was WARM. I never imagined the Pacific Ocean to be so inviting. It was great. And my little guy who had his very first experience with the ocean here, is still asking to go back.
The Weather
We've been to Canoa during both seasons of the year. First time around we were there just as the "summer" season was ending. Summer on the coast tends to be hot, sunny and rainy. However, we've yet to be in Canoa when it actually rained.
Second time round we were in "winter" which is cooler, cloudy, but usually pretty dry. The first day we were at the beach it was definitely cloudy and not very hot. For me it was perfect! Don't let the clouds deceive you though....my son and brother both got pretty burnt that first day!

The point is that there isn't really a bad time of year to visit Canoa, Ecuador. We were there during an Ecuadorian holiday and the town was much fuller than normal, but there was still plenty of beach and food for everyone!

The Food
If anything can beat the beach in Canoa, it's the food. Fresh seafood can be had everywhere. The Manabi Province as a whole is known to have the best food in all of Ecuador, and Canoa is no exception. My personal favorite is Camarones al Ajillo, shrimp in garlic sauce.

Places to try...
We really enjoyed the atmosphere of Bambu. Eating great food with sand covering your feet. Very beachy. We ended up going three different times on our first trip and checked it out again in 2018...they have added a big out door patio in the sand with covered tables to enjoy their great menu. Try the variety of meals that come with a passion fruit sauce...tasty! (Bambu also has a very popular guesthouse.)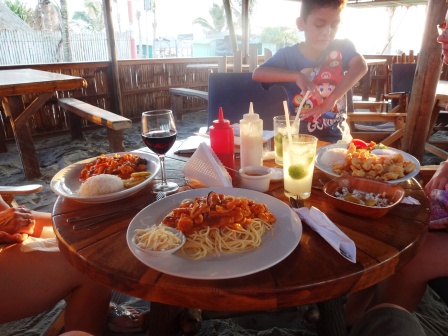 Another great place was Saboreame. Several locals recommended the place and they had reason to. The restaurant has 2-3 locations in Canoa Ecuador. In 2018, we tried one of their satellite locations right on the beach for breakfast. They have several different options, the best of which that we tried was the breakfast that came with fresh fish.

The Surf Shak is probably the most popular establishment in the whole town. Each night we went by, the place was overflowing with expats and tourists. If you're looking to try the Shak out when it's a little more low key, stop by mid-afternoon for good pizza or a cocktail.

Speaking of cocktails....Canoa wouldn't be Canoa without a good Caipiriña. This refreshing limeade is made with Caña Manabita, a sugar cane liqueur made right in the province of Manabi.
At the Sundown Beach Hotel, there was a communal kitchen, so we made our own breakfast most days. It was hard to find much variety of fruit for sale in town. There were only two bigger stores that we found and neither had much more than bananas and apples, but we made do.
 Other Stuff to Do 
While in Canoa Ecuador you may want to try out something new. You can:
Have a guided tour in sea kayaks 
Try paragliding
Or have a surfing lesson
Again the Surf Shak can be a great place to ask about the different activities available.

While in the area you can also visit Isla Corazon, which is just off the coast of San Vicente (the next town south).  This mangrove island is a great place for bird watching.
San Vicente used to be the nearest place to find an ATM. Canoa didn't have one when we first went, but apparently has one now. We didn't use it though...
Try to catch the sunset while you're at the beach....we've seen some AMAZING colors!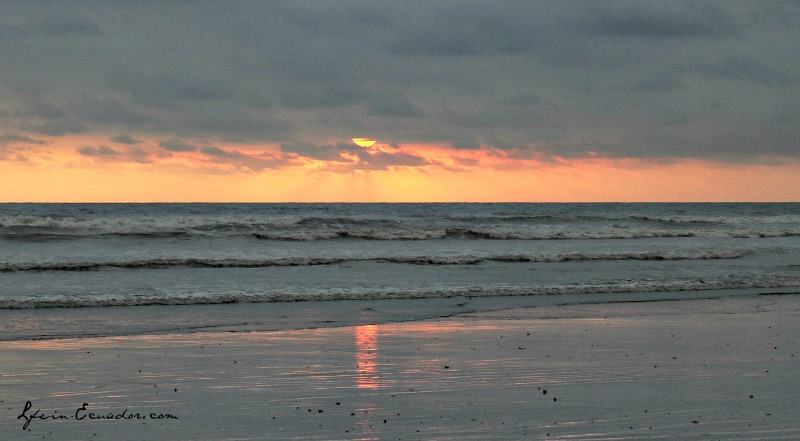 Our (TWO) Vacations in Canoa Ecuador
We spent several days in Canoa first in December 2012 and then again in May 2018. We didn't want to leave either time.
We first stayed in at the Canoa Beach Hotel ($$$) which is right on the beach and in quiet spot right outside of town. Second time around we went a bit farther down the beach -still within walking distance to town- to the Sundown Beach Hotel ($$). Both were great options (for different budgets).

2012
My son spent so much time in the water -between the pool and ocean- that we had to make him lay down and rest. And things were no different the second time around. This time he had his aunt and uncle to play with him in the waves. Great fun and little reason to worry as the waves, though big at times, weren't hiding any big rocks, rip tides or stinging animals.
Although we did nothing more than eat, swim and read, by the end of our stay we couldn't help but dream of living in Canoa Ecuador.
---
You may enjoy these pages...
---
Home

›
The Coast
› Canoa
---