Ecuador Blog
Check out my Ecuador Blog. The blog is updated every time a new page is added to this website. You can sign up to be notified about the new pages and never miss out on updated information or our newest adventure in Ecuador.
Signing up is easy. Just click on the orange RSS button on this page. And you're set. No e-mail needed!
Or you can sign up for my free newsletter to be updated on new pages and adventures.
You can also search other pages not included in the blog with the search feature below.
Where to Live in Ecuador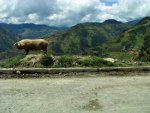 Lots of articles that say Ecuador is the perfect place to retire, but Ecuador has tons of variety. So maybe you wonder, "Where should I live in Ecuador?"