Kayaking Ecuador
The natural setting of high mountains plunging down to sea level on one side and to the Amazon basin on the other is perfect for kayaking Ecuador. Once mainly practiced by kayakers vacationing in Ecuador, kayaking has been embraced by many Ecuadorians as well.
The Season
Kayak season in Ecuador typically begins in October and November as temps begin to fall in the northern hemisphere. Kayakers searching for rivers to run during the northern winter have found Ecuador to be the paradise they were searching for.
Although there is an increase in kayaking in the winter months (of the north), there are rivers to be run year round.
Tena
Tena is one of the places you can find a river to run year-round. There are a variety of options for beginners all the way to pro boaters.
While in Tena check out the following rivers:
For beginners: The Tena, Pano, and Anzu rivers
For novice to advanced boaters: The Jatunyacu, Jondachi, and the Hollin rivers
For pros: The Lower Misahualli and the Piatua
You can typically find others to paddle with in Tena. Contact River People, now just outside of Archidona. They have some of the most experienced kayakers in the area and can give you more information on the rivers in the Tena and Baeza areas.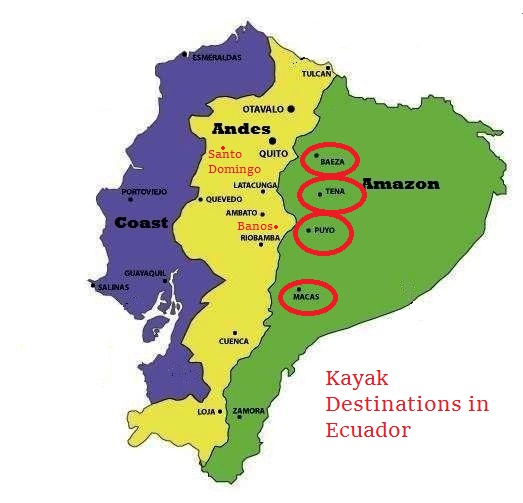 Baeza - Borja - Chaco
Another great destination for paddlers. Baeza and the surrounding areas come alive from October through January as boaters from around the world arrive to run their rivers.
Some of the rivers to run in the Baeza area:
Quijos
Oyacachi
Papallacta
Cosanga
Borja
The world class rivers in Baeza are more suited to novice and advanced boaters.
---
| | |
| --- | --- |
| | Our Ecuador VIP Discount program is available in many kayak destinations...Tena, Baeza, Chaco and Baños! Save 10% on lodging and food! |
---
Other Kayaking Ecuador Destinations
Baños and Puyo: The rivers feeding into the Pastaza River are another choice for kayaking. The year-round tourist hub of Baños is a great area to hang out.
Macas: The Upano River is another kayak destination. Several other rivers in the area make Macas and Sucua great places to spend many days on the river.
Santo Domingo: The Toachi and Blanco rivers are the well-known rivers of the area. However there are several other options depending on water levels.
---
You may also enjoy these pages...
---
Home

›
What to see and do
› Kayaking Ecuador
---