Jardines de Chamana
Baños Ecuador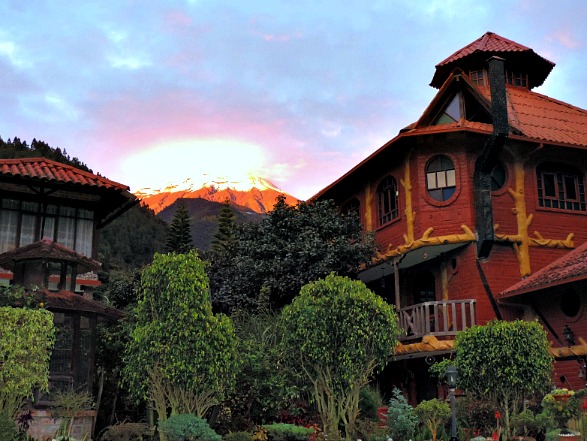 The Jardines de Chamana Hotel is right outside of Baños on a peaceful road. This interesting hotel is a mix of a fairy tale castle and a Ecuadorian country house. It is built around an amazing garden full of orchids, cacti and bonsai. There are turtles, a fish pond and a variety of birds in the garden area.
Rooms

The large rooms are quiet and refreshing. Each room is unique with details like stained glass windows and decorative wood beams.

Choose from :

Single
Double
Triple
Family Rooms

Cabins are available for large groups and families. Cabins have two bedrooms, living room  with fireplace and an outdoor patio. Cabins sleep up to six.

All rooms come with:

Amenities

On-site restaurant
Game Room
Tree house and children's play area
Conference Room
More to come soon!

Price

Single

Double

Delux Double

Triple

Quadruple

$55

$60

$90

$90

$120
What other say about Jardines de Chamana
"Fairy-tale, magic place." - by Kaja C from Toronto, Canada on TripAdvisor
"Kitchy but charming guesthouse nestled in mountains" - Rhonda G from Shanghai on TripAdvisor
Read all the reviews on TripAdvisor for Jardines de Chamana.
Reservations

Call: 032-776-170

Cell: 099-124-6537 or 098-832-9801

Email: teresa@jardinesdechamana.com

Directions

From Baños head toward Puyo 2 km. After you cross the Ulba bridge take a right. You will see the hotel 100 m up the road.

Taxi from Baños costs $2.