My Ecuador Building Experience
My Ecuador building experience began several years ago. We were back in the States planning our move back to Ecuador. A relative in Ecuador told us about how cheap they built their house. (Something crazy like $15,000 for a big house.)
One of the most stressful things for me in Ecuador, is finding a suitable place to live. And this time we were moving down with a little boy, so I was more picky than ever. So after weighing the cost we decided to build.
Our First Mistake
To keep down out debt we decided to stay in the States working while the building process was overseen by my sister-in-law. But we should have been present for the Ecuador building experience. We would have been able to catch problems, before they became monstrous.
Land
This also meant trusting family to pick out a decent piece of land for us. I know you all think I'm crazy. I am a bit. I'll do a lot to save a few pennies.
We were sent photos of land possibilities. Having lived in Tena, we had an idea of where it was, but we weren't 100% sure. Later we realized -only after walking into our new house- that this neighborhood had been nothing but overgrown jungle when were had last been in Tena.
We made our choice and bought 500 sq m. for $5,500. Not bad. Prices have gone up of course since then. They are asking about $20,000 for a similar piece of land around here now.
Plans
My dad builds houses in the States; and I've always enjoyed the planning part of construction projects. So I worked on house plans until I had figured out what we wanted. We sent the plans down to get an estimate. But the price came back a bit more than we wanted to pay.
So I went to work on a second set of plans. The house was smaller and the price more what we were hoping for. So we gave to go ahead to start building.
Of course in Ecuador meant getting building permits, contracting builders and getting materials. That's one of the parts of the Ecuador building experience I'm not sad I missed.
Building permits can be complicated especially if you don't know how to go about it. And we hear things are even more complicated now than they were a few years ago. Thankfully my mother-in-law has had plenty of experience and has the friends in high places needed to get things done as quickly as possible.
On our end we would hear some questions from time to time and had to send money of course. We were constantly begging for photos.
Expectations
The house was to be ready in three months. And we had tickets bought for just about that time. We hoped to move in and work on finishing things up before heading back to the States to keep working.
It didn't quite happen that way. As with most things in Ecuador, the Ecuador building experience didn't quite turn out as expected.
First problem, the house wasn't even close to done when we planned to arrive. So we ended up changing our tickets to leave a month later. Even then it was still not done.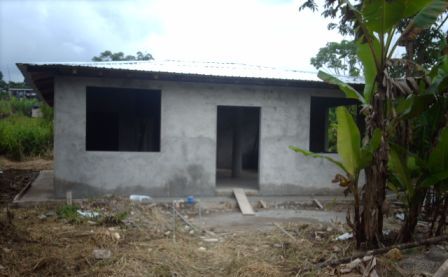 More Surprises
The builder who had be contracted by my sister-in-law had be fired by her a few weeks before we got there. I received a phone call from a friend who said to look into what was going on in Ecuador and quick...
A wall had been put in completely crooked and the neighbors were overhearing the workers talking about the "gringos" that would pay if they messed things up.
In the end we found out that the contractor was not present at all, but had sent his brother to build the house while he worked on other projects. And the brother didn't seem to have the building skills needed to build a house.
When we hired a new builder, it was quickly seen that the level of the house was too low. And due to this the sewer system was not going to hook up correctly to the city sewer. The roof was also full of holes.
And the biggest surprise...remember that I had sent Plan #1 and Plan #2. Well the layout of the house was according to Plan #2, but with the outside dimensions of Plan #1. So we ended up with a much bigger house than expected and rooms with strange proportions. The living/kitchen/dining room was so big we ended up adding another bedroom. And my walk-in closet was big enough to include a bathroom.
Getting things done the way I'm used to was also a struggle. Many workers here are very set in their ways and try to convince you that your way is wrong. But eventually everything was finished. There are still things that annoy me, but I just try to be happy to have a roof over my head.
What to Know When Building in Ecuador
1. If you don't have construction experience or won't be able to be physically present during all steps of the Ecuador building experience, it is a good idea to hire an architect to, not only draw up the plans, but to weekly inspect the work being done. And not just to make sure the work is done properly, but to assure that the work is moving ahead at a decent pace.
2. When you build a house you are expected to buy and deliver all materials, including most tools. Your workers won't hardly even show up to work with a hammer. You'll have to provide everything. So make sure to include a shed in you building plans; you'll need a place to store all your acquired tools once you're done building. And you'll be at the hardware store on an average of 2-3 times a day.
3. You are expected to provide lunch for your workers. This is especially true if you are living in your house and having repairs done. Apparently no one here has heard of bringing a box lunch. And sandwiches and juice won't do, they expect a full Ecuadorian soup and rice meal.
4. You can't assume that your builders know how to do what they say they know. Case in point: we had an interesting stone surround put in our bathroom. The builder told us he knew how to do it. Only when different problems came up did he admit that he had only watched someone else do it. Look for a builder with a good reputation and talk to people he's worked for.
5. You will often have to pay for you builder to fix his own mistakes. We ended up taking the first builder to court to get him to fix his major mistakes. Otherwise he had basically told us, "too bad." Other problems we've had fixed with another builder whose work was, in his words, "guaranteed." But guaranteed apparently means he will come and fix his work, if you pay him.
In the End
My Ecuador building experience was long and stressful. And I can't say I would do it again if I had too. I am glad to have my house and I am happier with it as we have fixed it up to be closer to what I had imagined.
I am also thankful to have a permanent home in Ecuador that is already paid for. In the end, we've put about $30,000 (USD) into the house. After a few years of hard work we only have to worry about upkeep and monthly expenses. Which is much more than we ever could have hoped for back home.
---
You may also enjoy these pages...

---
Home

›
Real Estate in Ecuador
› My Ecuador Building Experience
---