Online Advertising on 
Life-in-Ecuador.com
We have several ad options here on Life-in-Ecuador.com. Choose one that is right for your situation.
Why advertise online?
More and more people use the Internet as their main or only guide when planning a trip or buying property. Make sure your business is seen!
Every month we are seeing an increase of visitors to our site. As of January 2017, we have been averaging 20,000 page views monthly and that number continues to grow. Take advantage of all those eyes scanning these pages and have your ad noticed.
2012-2016 stats for Life-in-Ecuador.com:
---
Ecuador Businesses
We are accepting advertising requests from any tourist or expat related business in Ecuador including:
Hotels, hostales, hosterias
Restaurants
Tour agencies
Transportation services
Expat Services
Ads appear in the right hand column of our site...over 200 pages.     
Note: ads do not appear on some real estate pages.
Ad includes a photo or image of you choice - use a photo of your business or your business logo. The image as well as a short message will be linked to your website. If you do not have your own website a link can be made to your page in our directory. Note: As of today, our directory is still free to any of the above businesses. Add your page today!
Here is an example of the approximate ad size. 
Pricing: Depends on the spot you wish to purchase or what is available. Pricing below is for six months.
Top Spot: $50 -

currently unavailable

Spot #2: $45 -

currently unavailable

Spot #3:

$40 

Spot #4:

$35 

Spot #5:

$30 

Spot #6:

$25 
For more info, please fill out form below.
---
Real Estate Ads
If you are selling a home, business or property you have a couple of options for an ad on our site.
If you don't have a personal website advertising your property see options one and two. If you have a website see any of the options below. Please note: I do not link to ads on other real estate sites nor do I charge any commission when your property sells. 
Option #1) Your own web page on Life-in-Ecuador.com
If you do not have your own website to list your property, this is a great option to get a lot of exposure. Our real estate page is becoming increasingly popular.
Your web page includes:
An in depth description of your property, including price
As many photos as you like 
Spam protection contact form, so interested ones can speak with you directly
See example below or any of our current real estate listings for ideas of what to include in your ad:
Contact form information is sent directly to your email and includes spam protection (see example below). You respond to all inquiries. If your English is limited, please let us know and we can arrange translation service.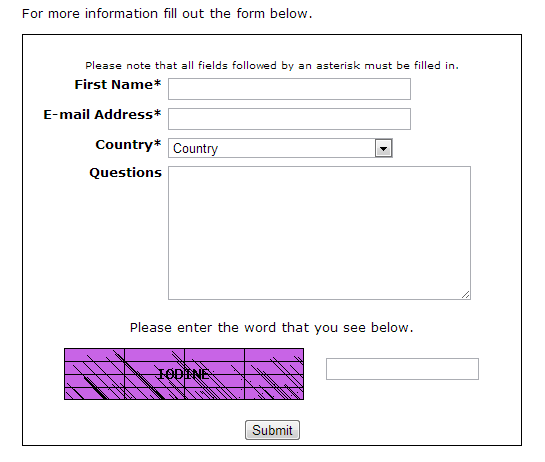 A link to your page will appear on our Real Estate page similar to the example below. 
Also includes: A one time post on my Facebook page. And one post in my monthly newsletter during each paid six month period. 
Pricing: $100 (USD) for first six months. Includes $50 fee for building page and one content edit (including photo changes). Unlimited price edits (you can change the price as many times as you need to).
Each renewal after the first six months: $50 for a six month listing.
Option 2) Your ad in our right-hand column on 200+ pages
This option can be combined with Option #1 or Option #3. Or use it on its own if you have your own website.
Ad will appear on every page of Life-in-Ecuador.com.
Ad includes:
an image of your property

a short description 

a link to your website or to your page on Life-in-Ecuador
See more examples in the right hand column of this page.
Pricing: Pricing varies by the spots available. See price chart above.
Option #3) List your property on our Real Estate page
If you already have your own website listing for your property, you can list your property on our Real Estate page and link directly to your website.
This option can be combined with option #2. Option #1 already includes this listing.
---
Home
› Ecuador Ads
---