Hi,



My Life in Ecuador brings you the latest news and adventures of my family living in Ecuador. If you like this e-zine, please do a friend and me a big favor and "pay it forward." If a friend did forward this to you and if you like what you read, please subscribe here .
---
Issue #037
In this issue...


Narrow down where you would like to live in Ecuador
2017 Updates on Life-in-Ecuador.com
Expat File: Renato
House For Sale in Tena
New Site Sponsor: Elite Travel Abroad
Coming Soon!
---
Choosing Where to Live in Ecuador
Ecuador has so much variety that it can be a bit overwhelming when thinking about where exactly you would want to live. The Pacific coast. The Andes mountains. The Amazon jungle. Plus lots of sub-regions in between.

So where to begin?!? Maybe too much variety is a problem??

To try to help narrow the choices down before you come to Ecuador, I've put together a new travel guide.



The Pre-Move Scouting Trip Guide



With this guide you can:
Choose your ideal climate
Choose between cities or towns
Pick an option based on the size of the expat community in the area


Check it out before your trip to Ecuador and see what places you should visit while you are here. There is also a handy map to help plan your trip.
---
2017 Updates
It's been seven years since I started this website. You can see below a screenshot of my site from 2011. It's so different from the way it is now!

Lots of things have changed in Ecuador in that time as well. So I started this month with the idea of looking things over to make sure everything is up to date.
During the last three weeks, I read almost 200 pages that I personally wrote. I found some things that needed to be changed and other things (like the visa process) that are in the process of being changed.

All of these updates have been made and I'm happy to say that you can read any page on my website as if it were written today (or last week). :)

I hope you continue to find lots of valuable information about Ecuador!
---
Expat File: Renato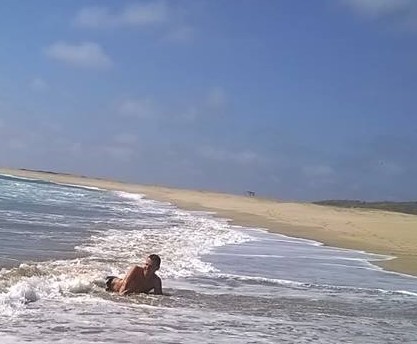 We've added another expat experience to our files. This time Renato from Italy tells us about his new life in Salinas, Ecuador.

He does a great job telling about his thought process when deciding on WHERE to relocated. Plus he reveals what he thinks about Ecuador now that he is here.

Read his story here.

If you live in Ecuador or have lived here in the past, we would LOVE to hear your story. Fill out our Expat Interview here.
---
For Sale in Tena, Ecuador
This property is just a few minutes outside of Tena, three blocks from the IESS Hospital.

The main house (shown above) has three bedrooms, one bathroom. There are two additional, one bedroom apartments that could be for guests or rentals.

For additional details and photos click here.
---
New Site Sponsor: Elite Tours Abroad
I want to welcome our newest Site Sponsor: Elite Tours Abroad.

This company specializes in private relocation tours. They personalize their tours to fit your needs and preferences, so you can get to know Ecuador before moving.

They also hook you up with professionals and other expats to make the transition easier for you.

I've spent this last month getting to know them better and found they are very friendly and helpful. Check out what they have to offer in this interview.
---
Coming Soon!
The site update I just did was Goal #1 and now I'm working on Goal #2. It's something I'm super excited to be able to share with you. I'm hoping that by the time my next newsletter comes out I can share what I'm working on with you!

Thanks for reading and have a great day!

Until next time....
Jess

Life in Ecuador Home Page





---