My Life in Ecuador, Issue #019
June 24th, 2013
---
My Life in Ecuador brings you the latest news and adventures of my family living in Ecuador.

If you like this e-zine, please do a friend and me a big favor and "pay it forward."

If a friend did forward this to you and if you like what you read, please subscribe by visiting My Life in Ecuador
---
Issue #019, June 24, 2013
This issue: Ambato Haciendas, Our Ecuador Car Hunt, Tena Restaurant Guide, and Illegal in Ecuador Update.

Ambato Trip

To start out the month, we went to Ambato to visit my sister-in-law and her family. Ambato has always been one of my favorite cities in Ecuador. It's so much quieter than Quito, but still has all the big city fun one looks for...SuperMaxi and a mall. We even got to see a brand new 3D movie.

Part of my plan while I was in Ambato was to visit one of their famous haciendas. There are at least two of these old colonial homes where famous men of Ecuador once lived. My plan was foiled by my camera. The batteries died without warning...and of course I didn't have the charger. Why go if I can't take pictures to share with everyone?



Ambato isn't too far from Tena, about 4 hours on the bus. So when I go next I will definitely check out the haciendas WITH a fully charged camera battery. :)


---
Car Hunt

My husband's job now requires that he buy a car. Either that or we will only see him once a week. So we have been searching the country for a car.



I sure wish there was a "Kelly Blue Book" system for putting a value on a car here in Ecuador. Car prices are CRAZY!



We spent the last 4 years that we lived in the States driving a 92 Honda Accord that we bought for $500. It ran perfectly, saved us money on gas and rarely had a problem. A $500 car is unheard of in Ecuador. Some of the cars we've been looking at in our price range I wouldn't even pay $200 for, let alone $2-3,000.



Hopefully the search will be over soon. I don't really need a car for my everyday life, but it will be nice to have when we take long trips....we won't have to take the bus!



If you are looking for a car in Ecuador, we have found the following website to be the best. There are new listings daily. olx.com.ec


---
Tena Restaurants

As promised, my Tena Restaurant Guide is now live on my website. I was actually surprised at how long my list of restaurants is. It never feels like there is anywhere to eat here. Guess I was wrong.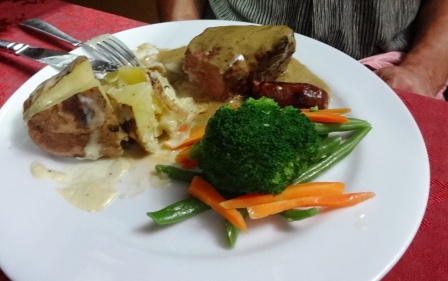 Check out my picks for places to eat. I will add more photos and new restaurants in the future. Let me know your experience in any of the restaurants I've mentioned (good or bad) and let me know if I forgot to mention your favorite spot.


---
Illegal Update

Last newsletter I talked about the steps to take if you overstay your visa while in Ecuador. I just wanted to update you on an additional piece of information that we were able to verify.



If you've overstayed your visa you must leave the country and you cannot reenter for 9 months UNLESS you obtain a visa other than the 12-IX Six Month Tourist visa. If you can get a different visa (and you followed the correct procedure when you left Ecuador-see last months newsletter) you can come back to Ecuador earlier than nine months.


---
My son's big news is that we got two new kittens: Sasha and Cappuccino. They give us reasons to laugh out loud everyday. Sasha has already made it on Facebook!

For all the animal lovers out there, there are lots of animals in Ecuador that need a good home.



Until next time...Jess

Life in Ecuador Home Page

Life in Ecuador on Facebook