My Life in Ecuador, Issue #015
December 26th, 2012
---
My Life in Ecuador brings you the latest news and adventures of my family living in Ecuador.



If you like this e-zine, please do a friend and me a big favor and "pay it forward."



If a friend did forward this to you and if you like what you read, please subscribe by visiting My Life in Ecuador
---
Issue #015, December 26th 2012
Our year in Ecuador is ending with a SPLASH! My parents were just here for three weeks, so we spent a week traveling around a bit.



First up was Mindo. Perfect weather and beautiful scenery. But I will write more about that very soon...



Next, we headed to the coast. After so many years in Ecuador it's really quite sad the amount of time I've spent on the beach, which is zero to none. Guayaquil doesn't count!



We went to Canoa, which is a quiet, little town popular with surfers. The best waves haven't quite hit yet, but it was perfect for us.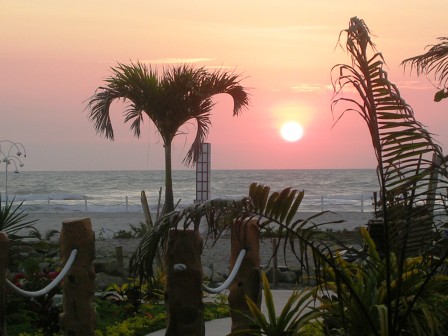 ---
Canoa Beach Hotel
We stayed in the brand new Canoa Beach Hotel. It was clean, beautiful, quiet, and right on the beach. We couldn't have asked for a better place to stay.


Each morning we walked out to see the ocean, and spent most of our time in Canoa either in the pool or ocean. The hotel was just a quick walk to the center of town, where we enjoyed awesome seafood pulled fresh from the water.


Read more about the hotel and see my photos here.
---
Photo of the Year

Congrats to Celeste, our final photo contest winner of 2012.



Her photo seen below, now goes up against our other winners of 2012. Vote now for your favorite. Hurry time is running out...winner of the year announced January 10, 2013.


Click here to vote for our 2012 winner.
---

I will be writing more about our trip to Canoa. And next about Mindo. It was a great way to end the year.



On our way back to Tena the Tungurahua Volcano started spewing ash...again. We had a perfect view as we drove through. Check out my photo on Facebook.



Until next time...
Jess

Life in Ecuador Home Page

Life in Ecuador on Facebook