My Life in Ecuador, Issue #014
November 6th, 2012
---
My Life in Ecuador brings you the latest news and adventures of my family living in Ecuador.



If you like this e-zine, please do a friend and me a big favor and "pay it forward."



If a friend did forward this to you and if you like what you read, please subscribe by visiting My Life in Ecuador
---
Issue #014, November 6th 2012
The last couple of months we kind of felt like we were getting into a rut. School, school and more school. Of course, we have to keep up with school, so we had to make up a good excuse to get out of Tena. School field trip!



We've been studying birds in Science class, so we tried to figure out a trip that could include some bird watching. Mindo would've been ideal. Canoa was our dream trip. But in the end money and time made our decision for us.



So, we went to...drum roll please...Puyo! Puyo is a whole 90 minutes from Tena and we go there at least three weekends a year. So, it wasn't much of a change. But something is sometimes better than nothing.



We arrived late in the afternoon. And were pleasantly surprised to find that our hotel was set along a cute path next to the river. Our room was a bamboo and straw hut, similar to what the native people live in out in the jungle.



We did see macaws in the trees, but the funnest winged creature was waiting to show itself after dark. As we got ready for bed, a bat flew through the room. This led to screaming, laughing and two moms plus two kids all huddled together in one double bed. We never saw the bat again, although we could here something flapping around the room in the middle of the night. At least the laughing did us good...we slept great and enjoyed the next day next at the pool.



There's always an adventure to be had in Ecuador.


---
Last Photo Contest of the Year
We've made it to our final Photo Contest of the year. Vote for your favorite. Winner announced December 7th.

Next, we will enter the three winners of 2012 in our Photo of the Year Contest for a special prize.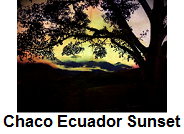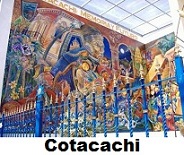 Click here to vote for your favorite.
---
Patate Real Estate

Patate is a little town between Baños and Ambato. Check out this great two family home, complete with swimming pool and fruit trees.


---
Borja Real Estate

Halfway between Quito and Tena is Borja. This little town along the Quijos river is getting popular with kayakers. This listing could be perfect for someone hoping to start up a little guest house.


---

The holiday season has begun in Ecuador. November 2nd is the famous "Day of the Dead." People visit loved ones graves to leave food...I think it's the favorite holiday of the homeless. Free food!



Next up, here in Tena are the Fiestas of Tena, starting next week. Then on to Christmas and New Years. 2012 will be over before we know it.



Until next time...
Jess

Life in Ecuador Home Page

Life in Ecuador on Facebook